The Process
Your call into Alfa is answered by one of our friendly and knowledgeable staff who takes your information and passes it on to one of our qualified job estimators.
Our estimator will call and set up a convenient time to meet with you and view the property.
When our representative meets with you, we have the opportunity to hear your concerns. We offer our advice on remedies and we will recommend roofing and siding products to suit your needs. If it's a roofing quote you need, it is important that we go onto the roof and look for proper roof and soffit venting and to check the condition of the roof flashings and protrussions. Existing roof leaks and condensation issues should be brought up then too.
Usually, we can print out the written proposal on site at the initial meet and greet. Our proposals are detailed so you can see what components of the complete roof system need to be changed.
Once you have the quote, you might have more questions or need some addresses to drive by or references from our extensive list.
When you are ready to proceed, we meet again and confirm colors along with any chosen options. The contract is signed and dated and we are ready to proceed. Your project now goes into the job queue.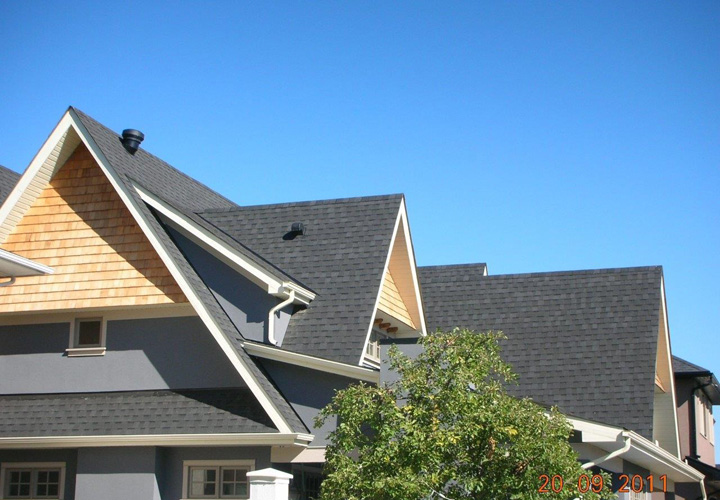 What's Next?
When your job comes up for ordering, we assign a Job Number / Purchase Order Number to it. We send the order to our supplier for shipping. It specifies our preferred shipping date so you can be notified when to expect delivery.
We ask that the delivery truck be given good access to the site on the day of delivery so that our material can be loaded conveniently for the installers. This just means that vehicles need to be left out of driveways and far enough away from the property to allow safe and easy access to the property.
When it is a roof top shipment, the materials are brought to the site and lifted and stacked on the roof for easy access by the installers.
In some cases, we need to arrange for a dump bin to be placed on site for debris removal but other times we use dump trucks or dump trailers.
We notify you ahead of time when the crew is prepared to start.
Weather [especially rain] plays a big part in scheduling, so we watch for favourable conditions.
Our crews perform daily site clean ups to keep things tidy and safe.
When all is complete, we meet with you and bring your invoice and warranties. We perform our final inspection then too.